Speaking to Your Doctor About a Gluten Allergy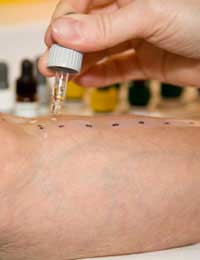 Gluten allergy is a commonly misdiagnosed problem due to limited awareness and a huge variance in symptoms. Speaking to a doctor about the problem can be a frustrating experience as they are cautious in advocating a full test and currently there are no gluten allergy specific prescription drugs available to alleviate patient suffering. Over worked GPs can appear sceptical and even demonstrate a lack of understanding despite the sufferer's discomfort.
There are tests to determine whether someone suffers from any form of gluten allergy but unfortunately they are unreliable. Many people who genuinely suffer from a gluten allergy will receive negative results and be given the all clear.
Getting Tested
The supposed gold standard test for gluten allergy is an internal biopsy, in which the patient is sedated whilst a small camera on a long tube is entered into their digestive tract. A fragment of the intestine is then removed for testing. However to even receive this gluten allergy test the sufferer must already have severe gastrointestinal problems.
The test will not be administered to those who suspect they have a problem, only to those who definitely do. This is particularly unfortunate as firstly, gluten allergy sufferers have such varied symptoms that they may well have no gastrointestinal problems and secondly this uncomfortable test is not 100% accurate.
The Scratch Test
An alternative procedure is the 'scratch test' in which gliadin; the protein that causes the gluten allergy is scratched into the skin and checked later for a reaction such as swelling and redness. Again, this test is not guaranteed to produce accurate results and tends to be most effective on those who are already demonstrating the more severe forms of gluten allergy symptoms.
The Blood Test
Finally there is a blood test, which checks for the gluten protein antibodies. By now it will come as no surprise to learn that this gluten allergy test is not necessarily going to be correct in its results, particularly if a patient has begun a gluten free diet. Each test can be attempted and may confirm a gluten allergy but with this particular disease all are flawed in some manner. Following gluten allergy testing the doctor may well send a patient away with a clean bill of health but the best way to know whether you are ill or not is how you feel yourself.
The safest and most effective method of treatment is prevention. A sufferer should begin the gluten free test by eliminating all food containing gluten from their diet completely for an initial period of 60 to 90 days and then see how they feel.
Once the diet has commenced it remains important to have a professional, keep track of the sufferer's progress. These needs are best served by visiting either a dietician or nutritionist on a fairly regular basis.
Although the results from a doctor's visit may not have given the closure one had hoped for, a GP can still be utilized to prescribe vitamin supplements to counter any nutritional deficiencies from undertaking the gluten free diet.
If your GP is reluctant to give you a test, if he is sceptical about your symptoms it may be helpful to seek a second opinion. You should see another doctor and ask for a test.
You might also like...