Children and Gluten Intolerance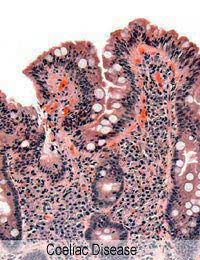 Coeliac disease, or the lesser form of gluten intolerance, probably affects one in a hundred people in the UK and only around one in ten of those affected have received a diagnosis.
On the other hand, many schools and nurseries recognise the need to protect children with allergies, and have a policy to exclude nuts and nut products from the school environment as well as trying to provide for wheat intolerant children.
Labelling and Guidance
However, it can be considerably more complicated to manage a gluten free lifestyle. As a parent, it's important to inform the school of your child's dietary intolerances – a single letter isn't sufficient: you need to ensure that all new staff are given the information, and that parents and carers of other children know the situation so that they can understand why your child might not eat food they provide for excursions or as after school treats in which your child is included.
Since January 2009, new rules have been in place to govern food labelling and gluten intolerance – foods that are labelled 'gluten free' must less than 20 parts per million gluten – this means they are safe for most people who are gluten intolerant. Another category of labelling is 'very low gluten' which is allowable on foods that contain starches from which almost all the gluten has been removed, leaving them with a gluten content of up to 100 parts per million, but these are not necessarily safe for your child and you need to obtain a GPs advice before telling schools and other institutions which version of gluten labelling is right for your child to eat.
Isolation or integration
Some families, particularly in the USA, have opted for a gluten free lifestyle. This has its advantages, especially if the gluten intolerant person is an only child, as it is much easier for adults to support the child by eating similar foods. It means there are no foods in the house that could put the child at risk, and that they don't feel isolated or odd. On the other hand, many parents feel that going gluten-free doesn't help a child adjust to a predominantly wheat-eating world and that the gluten intolerant child, like the diabetic, needs to be able to develop survival skills that allow them to cope with the outside environment.
Pre-school safety
As with nut allergy, it can be vital to protect the gluten intolerant child from a very early age – some parents laminate a small card that says that the child must not eat any wheat or foods containing wheat and give it to the child to carry and show to any adult with whom they have contact. As the child learns to read, you can play games in which they get a reward for every example of gluten they can identify on a food label – remembering that rye, barley and malt also contain gluten. This helps the child recognise risky foods and can give them confidence in managing their condition.
Choosing and making meals
All children, not just those with gluten intolerance, benefit from taking part in choosing foods, planning menus and cooking. Very small children can be encouraged to choose food at the shops, to help wash and dry vegetables and fruits and to set the table for meals. Older children can be involved in more complex menu preparation and food handling, all of which helps them to feel they are in control of their diet, rather than it controlling them.
Respectful Rejection
It can be very difficult for a child to say no to an adult, and we spend a lot of time teaching our children to have good manners and to respect their elders, so for the gluten intolerant child, it can create great conflict to have to refuse foods offered by an authority figure – practicing what to say if offered food that they suspect may contain gluten is very important and at this point even teenagers may find it useful to revert to the laminated card that describes their condition and the foods they cannot eat, as it 'backs up' their assertion that they shouldn't eat certain things. Schools can help here, during circle time and PHSE lessons, by exploring dietary restrictions that are cultural and health related and offering role play on how to deal with such situations – most curriculums have a resource pack for this subject, so it's important to remind teachers that this subject should be covered in depth.
You might also like...