Gluten Free Diets and Dining Out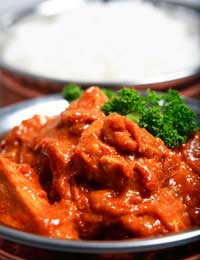 Eating out used to be an impossibility for those who must avoid wheat, but these days it's become much easier to enjoy a meal in a restaurant or hotel if you follow our simple tips.
Plan Ahead
Modern technology means that many restaurants, especially chain restaurants, have online menus that give details of what goes into every dish – this can make it a lot easier to assess what you'll be able to eat ahead of time. It's also good for planning journeys and for allowing you to pick a location for a kid's party that will cater to a gluten intolerant host or guest.
Remember that a lot of people don't understand what gluten intolerance is, and it may be easier to call it an 'allergy' than to try and explain it's a medical condition. Most restaurant staff understand allergic reactions and can appreciate why people avoid certain foods that might cause them.
Cultural Differences And Wheat Use
An excellent choice is an Indian or Nepali restaurant because as long as you avoid the various bread-based accompaniments such as chapattis, parathas and naan breads, you will find most food is gluten free. Bhajis usually contain gram flour which is made from chick peas and poppadoms contain lentil flour rather than wheat.
Obviously Italian restaurants will not be your first choice, as 90% of the menu will be based on pasta or pizza, but you should find a risotto option in most upscale restaurants – just check they don't use soy sauce in it.
Japanese, Chinese and Thai foods all tend to be marinated in soy or teriyaki sauces, both of which are likely to have wheat or barley in them, so you will have to be very careful and ask lots of questions about how food is prepared before you decide what to eat.
Oddly, barbecue meals can work out really well because, as long as you avoid sausages, most of what is served up should be wheat free.
Ask Questions
When you arrive at the restaurant or hotel, don't be shy about asking to speak to the restaurant manager, the chef or the hotel manager – if your waiter or waitress seems unsure, explain that you'd rather make your situation clear from the beginning, than have to write a letter of complaint afterwards!
It is your responsibility to ask questions about food, and not to guess or make assumptions about dishes based on the way you cook them – many chefs may add a little flour to beaten eggs for omelettes for example, or ice cream may have cookie dough swirled through it, American style. Questions to bear in mind are:
Does chef make his own salad dressing? Can you tell me the ingredients? (Chefs may use soy sauce - which can contain wheat or barley - to enrich a salad dressing)
Does the soup contain any thickening agents? (Some chefs make soups from scratch, many others will 'cheat' with a soup base in powder form and that often contains wheat powder)
Do you sprinkle meat with flour before it's fried?
Are your chips cooked in a dedicated fryer or is it also used to cook breaded or battered foods?
Watch Out For Cross-Contamination
This happens when gluten-free foods come into contact with wheat-containing foods. It's very easy for it to happen in a restaurant, for example by having vegetables sliced on a board that has previously held bread, or meat waiting to be cooked being put down where flour has been sprinkled. Again, if you remind the chef or restaurant manager what being gluten-intolerant means, it gives them a chance to remind all staff of the need for good food hygiene, which means that you can feel confident that the entire kitchen team have got the message about your food intolerance.
You might also like...