Living Gluten Free as a Student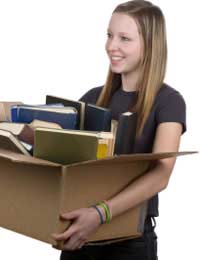 Students are under immense pressure in all kinds of ways – especially if they are gluten intolerant and away from home for the first time. Here's how to help them cope with the transition to college or gap year.
College and Kids
Before choosing a college, get a letter from your GP or dietician that states your child's condition and current treatment so that the university can work with you to help your youngster integrate safely and happily.
When visiting a college it's important to get a sense of how the community as a whole would work with a young person on a gluten-free diet. Often school cafeterias and snack shops are aware of the need to cater to different diets and many universities have active campaign groups on issues of cultural/physical/mental diversity which can help your youngster get the supplies and information they need to settle well into college life. Some halls of residence offer fridges, microwaves and little cooker rings that allow a student to cook their own gluten-free food if the cafeteria or dining room doesn't cater to gluten intolerance at every meal, but it's important that a young person gets the best chance to integrate with their peers, so cooking alone is not an ideal option for a gluten intolerant student.
Often special meals are cooked at universities:for holidays, at graduation or special local feast days etc. This can meet that people on special diets find themselves excluded because a traditional meal may not be suitable for them. It's not just gluten intolerance: vegetarians fare badly at Christmas and diabetics and lactose intolerant people struggle with almost all puddings served as part of traditional festivals. However, it's important that somebody takes responsibility for reviewing these celebratory dinners with the catering staff and finding options that work for special diets. Ask who does this – is there a student committee that undertakes the task, or a special needs officer who will coordinate with those who have dietary restrictions? If there isn't anybody, the college may not include some students in these very important occasions and that may mean it's not the right place for your child.
Gap Year Considerations
There are parts of the world that are extremely difficult for gap year students who have gluten intolerance: Japan and China and many Indo-Chinese cultures are fascinating to explore but have two major problems for the gluten intolerant visitor
Food information is displayed in a different script, not just a different language, so translation is almost impossible
The predominant dietary culture is based on soy sauce (used as a condiment, a marinade and a dressing) for savoury tanginess, and this sauce often contains wheat.
On the other hand, India is a good choice for a gap year as the foods that contain wheat are often separated from other foods (naan breads and chapattis for example) while the predominant food culture is based on yoghurt for coolness and spices for heat which means that wheat is much less likely to turn up as a trace element of meals.
Choosing a gap year location can be very difficult for a family, as they fear that their travelling student may become ill or not get enough to eat, but it's a good idea for a youngster to explore the world and as they will be gluten intolerant for the rest of their lives, they have to start coping with it as some time!
In any case, it's important that a young person carries a card in a number of languages – and simply pictorially - that makes clear that they have gluten intolerance and the treatment they require if they develop a severe reaction.
Cross Contamination
This is a real issue in both student life in halls of residence and in gap year travel. It's where food that should be free of wheat is contaminated by food that contains wheat –for example by being sliced on a board where bread has previously been cut, or by being fried in a fryer also used for foodstuffs that are coated with wheat batter. Dealing with cross contamination requires the young person to be assertive in asking about how food is prepared, and some practice sessions on this at home may be invaluable in helping them deal with this problematic area of diet.
Be Positive
Whether at college or travelling, students adore getting 'goody bags' from home and it can easier for you to cope if you plan to send care parcels at times of particular stress such as exam times, or for holiday seasons. That way you can be sure they have treats and good things to eat that meet their dietary needs.
You might also like...