Planning a Hospital Stay If You're Gluten Free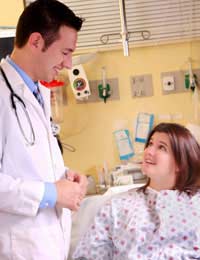 A hospital stay can be challenging for anyone, and rarely happens to order, but for people who are gluten intolerant, hospital visits have an added layer of complexity as they require planning and vigilance to ensure that dietary management is maintained during the period in hospital.
Planning Ahead
If you are given warning of a hospital stay, use our comprehensive list to ensure that you, or your loved one, are fully protected from food risk.
Make a Checklist
Make a checklist of items listed below, and any other medication or issues the patient may have, and keep a copy at home as well as taking a copy to the hospital and supplying a copy to your GP and the ward. This means that if there is a question about food or medication, there are multiple ways for the care team to get the right answer. It also means that the patient can double check their medication, treatment or food with staff without feeling that they are being fussy or critical.
List Foods You Cannot Eat
List the foods that the patient CANNOT eat, clearly typed and any allergies he or she has. On the other side of this sheet, list any medications the patient takes and the names and contact numbers of health care providers and a key family member who is willing to be the contact person for any queries. Get a letter from the patient's GP, nutritionist or dietary consultant, stating that they must have a gluten-free diet. Ensure this letter states that the patient is allergic to gluten because this will then be recorded in the computerised admission notes – dietary preferences are sometimes recorded in the computer and sometimes only noted on the ward files, but allergies are always recorded in the database so this really focuses attention on the problem.
Ensure this checklist is kept with the patient's notes – when you visit the ward, ask to see it so you can be sure it hasn't been lost or forgotten.
Do Your Research
Ask how many wards or departments the patient might be sent to during their stay and ensure that you have enough copies of the forbidden foods list for each of them.
Find out if the hospital or clinic uses allergy wristbands. These are increasingly common and mean that when any staff member comes into contact with the patient, they are aware that there is an issue to consider: this can stop them using wipes or creams that contain wheat derivatives, for example, which may not be something that the patient recognises as a potential allergen.Ask about the hospital's outside food policy to see if you can bring in gluten-free meals from home. This limits the risk of cross contamination from food serving staff or through meals being prepared in the same area as wheat-based foods.
Unplanned Hospital Visits
There are always occasions when hospital trips must be made without warning and even if the patient only expects to be in hospital for a few hours, for example when visiting Accident and Emergency, it's still important to activate a gluten-free policy to avoid the risk of exposure to gluten.
While food may seem to be the only risk area, there are several forms of treatment such as ointments and creams, and cleansing wipes, that may contain wheat derivatives and so it's vital to ensure admission staff know there is a gluten-free individual on the ward. Drinks can also contain wheat – some 'machine' teas and coffees may be contaminated with malty drinks like Ovaltine, Horlicks and hot chocolates that are delivered through the same nozzle as tea and coffee. It's important not to assume that a vending machine produces gluten-free drinks. Buy bottled drinks where possible or use a café or WRVS trolley in the hospital and remember to tell the server that the drink is for a gluten-free individual as this can help avoid cross contamination (such as putting a complimentary biscuit on the saucer).
If the admission becomes an overnight stay, try to arrange for the patient or somebody representing them, to speak to the hospital's dietician as soon as possible. It can be a good idea to make up a checklist and keep it at home for just such an occasion, especially if the gluten-intolerant person is very young or very old and may not always remember to state their condition.
Helping Others
It's crucial to feed back on your experience to the hospital, especially if something goes wrong. This can allow the NHS and the Primary Care Trust to improve its training to avoid a repetition of problem or mistake. It's often difficult to complain, but important to remember that mistakes will be repeated until somebody points them out and gives the staff a chance to improve their performance.
You might also like...