What Tests Check for Gluten Allergy?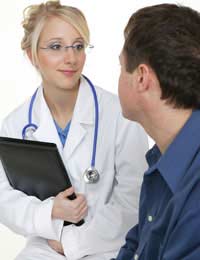 Gluten allergies are not easy to detect without adequate testing. This is mainly because many of the symptoms associated with gluten allergies are also linked to other illnesses and diseases. However there are some tests available which can determine whether or not the discomfort and illness you are experiencing are the result of a gluten allergy.
Blood Test
A blood test is the most common way to test for gluten allergies. Before any other investigative procedures your doctor will prescribe a blood test. These blood tests examine antibodies in the blood and the results help doctors determine whether the patients has an allergy towards gluten.
There are three types of blood tests used to test for gluten allergies. The first is called the antigliadin antibody test. The second is the anti-reticulin antibody test and the anti-endomysial antibody test. Your doctor may use all three of these tests to determine whether or not you need to cut gluten from your diet.
If the blood tests show you have gluten intolerance your doctor may then decide to give you a biopsy called an edoscopy. The sufferer will undergo a small operation whereby the surgeon will take a sample of the patients bowel. This sample should show the extent or damage of the gluten allergy.
Endoscopy
The endoscopy involves the doctor taking a small sample of the bowel to test it for damage. However it may be necessary to do more than just one test. This is because not all of the bowel will be damaged. In some cases it may be that only a section is damaged. If this is the case the surgeon may have to perform several endoscopies. This will determine how serious the damage is.
The test are not very nice and may cause some discomfort, in particular the endoscopy but in the long run it is much more beneficial to you to have them done. Once you have been diagnosed you will be able to adjust your diet and cut out gluten hence leaving you symptom free and feeling much better – sometimes within a few weeks.
If you go to your doctor suffering from symptoms associated with gluten allergies then he or she should suggest a test. Unfortunately this is not always the case. Your doctor may not be well informed on gluten allergies and may try to deter you from having or requesting the tests. If this happens make sure you persist. It is vital that you find out earlier rather than later if you are suffering from a gluten allergy. If the doctor still refuses to give you the test then it may be necessary to move to a new doctor. Some doctors will be more sympathetic to your problems than others.
Gluten allergies are more common than some would imagine. In fact some studies show one in every 110 adults have the illness. It is therefore even more vital that you are tested to find out whether or not you have an allergy to gluten.
You might also like...
I was having loads of smelly wind, loads of smelly diarrhea, stomach pain, bloating.I researched and came to the conclusion I was gluten intolerant or sensitive.Had blood test and stool test.Results are that I am not coelic and do not have IBD.Nothing at all about gluten!Prior to the test I had almost given up gluten for a couple of weeks and the difference was amazing, so I am SURE I have a problem with gluten.So what happens next?Do I have to contact my GP again (when i got the results over the phone I was not given any instructions) or do I just carry on not eating gluten?Very confused
Confused
- 22-Feb-21 @ 2:43 PM