Cross Contamination and How to Avoid It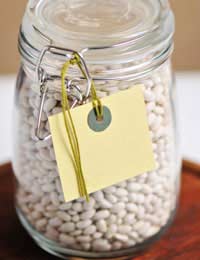 Living with gluten intolerance means being extremely careful about cross contamination.
What is gluten contamination?
When a person who is gluten intolerant shares a house with others, they are at constant risk of having their food contaminated with gluten. As small amounts of gluten do not necessarily cause symptoms, but do damage long-term health, it's vital to ensure that the gluten intolerant person is protected from accidental consumption of gluten.
How to avoid cross contamination
Here are some of the ways in which you can avoid accidental consumption of gluten:
Use your own equipment
Ensure the gluten-intolerant person has their own butter or margarine dish and their own cutting boards for use with all foods, not just bread. Chicken, for example, may have been basted or stuffed with gluten containing condiments, and if a gluten intolerant person uses the cutting board on which such a chicken has been carved, they may end up consuming trace amounts of gluten. If possible, ensure a gluten-intolerant family member has their own toaster, or uses plastic toaster bags for cooking their gluten free breads. Keep a small hand vacuum in the kitchen to allow the gluten-free person to easily clean a work surface or table before cooking or eating. This helps remove crumbs and flour dust that would otherwise infiltrate a gluten free meal.
Label everything
If you have children who are gluten intolerant, it's a very good idea to give them their own clearly-labelled jars of jam, peanut butter and so on. This is because it's very difficult for children to remember not to 'double dip' which is where they use a spoon or knife to extract some spreadable item, then find they haven't got quite enough, and put the same utensil back in the jar to get some more. If they are spreading jam, honey or other foods on bread, they have just accidentally contaminated the whole jar with gluten. Always start by marking gluten free food – if the family is to eat together, put the gluten free food in a box or bag to keep it safe from contamination while you make the gluten containing food. This prevents you transferring gluten on your hands or on plates, to the gluten free food.
Use liners and foil
Where possible use liners like cake cases or tinfoil to line roasting trays. This means that the potential sources of gluten contamination never come into contact with your metal bakeware and thus your metal dishes don't offer a risk of harm to your gluten-intolerant family member.
Ban wooden utensils
Ban wooden utensils from your kitchen entirely. They are known to harbour miniscule amounts of food and while this is too small to do harm to most people, it can be enough, on a regular basis, to cause problems to a highly gluten-intolerant individual.
Cross contamination issues
Remember that when you have guests in the kitchen, even close family members who don't live with you, you have to be much more aware of their behaviour than usual. It's very difficult for people who don't live with gluten intolerance to remember all the habits that you've established. Also, when you have guests you are more likely to slip up on your gluten patrol because they distract you from your usual routine.
Foods sold in the open or in bulk bins can easily become cross-contaminated as people move scoops from one to the other or just where flour travels on the air to land on supposedly gluten free foodstuffs. Be extra cautious about such products.
Watch out for chips cooked in the same oil as fried fish in batter and barbecued meat cooked where the burger buns also get grilled. Both of these are prime sources of cross contamination.
You might also like...