Tips to Deal with a Gluten Free Life: Go Shopping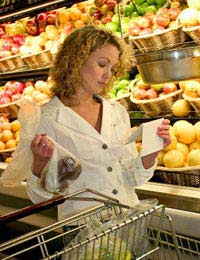 A person who has been diagnosed with a gluten allergy or suspects they may suffer from one needs to begin a new diet in which all foods containing gluten are completely eliminated. This picky and limiting diet can be a frustration but it is a small piece to pay in comparison to suffering from a chronic illness.
Going Shopping
A gluten allergy sufferer will initially find their food shopping trips taking a lot longer than they used to as they will have to become a keen student of food labels. The key is to develop a habit of buying gluten free products and foods so that it becomes second nature. This has become far easier in recent years due to an increased awareness of the problem.
Many products now state clearly on the packaging if they are gluten free. Certain types of foods that are ordinarily rich in gluten, such as pasta, now have gluten free options. This is due to the fact that food companies are now aware that as more people are diagnosed as having a gluten allergy the market will continue to grow. To supply this demand there is an increasingly wider range of gluten free products on the shelves.
Wheat, barley and rye are the main offenders for those with a gluten allergy so they should start by taking them off the menu. Then avoid the following whilst food shopping: most flours, cereals, bread and starches, plus malt, vegetable gum, emulsifiers, vegetable protein and hydrolysed vegetable protein.
Finding Alternatives
Some of the aforementioned list are common in many foods and can be difficult to steer clear of but there are gluten free alternatives available. When purchasing flour go for soybean or tapioca flour. With starches, the only option is cornstarch. Breakfast cereals containing only rice, corn, hominy or oats. The latter is acceptable to some but not all sufferers and it may be safest to eliminate them anyway. Any breads and baked goods must be made using alternative ingredients such as rice, soy, tapioca, arrowroot and potato. When eating out avoid gravy plus any breaded and creamed foods.
Foods that are safest when undertaking a gluten free diet include: rice, potatoes, fruit, beans, corn and buckwheat. In restaurants plump for broiled or roasted meats such as beef, poultry or fish with plain vegetables and salads.To make life easier it is highly recommended to buy at least one of the numerous cookbooks containing a range of gluten free recipes. There is also a huge amount of information and recipes to be found on the Internet.
Although a gluten free diet is not easy to stick rigidly to there are other fringe benefits as well as the obvious allergy symptoms avoidance. An added incentive of a gluten free diet is that it is a healthy option as a sufferer can focus on fruit and vegetables rather than fatty foods. Finally mundane food shopping can now become a more involving task as the patient can benefit from some classic retail therapy.
You might also like...