Allergy Support from Family or Friends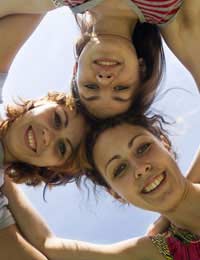 Gluten allergy is a disease that can be difficult to comprehend for non-sufferers. Due to a lack of awareness and wildly varying symptoms universal understanding remains low. However, as with any from of illness support from family and friends is invaluable.
Firstly a sufferer must educate themselves on the symptoms, causes and gluten free foods. Secondly this information must be clearly conveyed to those around them. If there is a lack of understanding it can seem as though a sufferer of gluten allergy is just being picky and self indulgent in their food choices. What must be clear is that these dietary requirements are a necessity and that there is no choice involved.
Help at Home
The gluten free diet begins in the home and requires family support. With a gluten allergy sufferer undertaking a new diet, their family will have to follow suit or accept the notion that more than one meal at a time will need to be prepared.
Eating at a friends or relatives can be a particularly tricky business. The social implications are often an unforeseen side effect of gluten allergy. There is no point in a gluten allergy sufferer eating what is put in front of them for the sake of politeness and then suffering in the days that follow.
If visiting people for a meal then one remedy is to call ahead to explain the problem of what can and cannot be eaten. The hosts are likely to be very understanding towards these needs and act accordingly. Catering for people's wants can be troublesome, but their needs should be fulfilled. Vegetarian options are now commonplace and in time so will be gluten free alternatives.
However it is key that a gluten allergy sufferer learns to take responsibility for themselves and their illness. The burden of responsibility cannot be reasonably put on someone else's shoulders. As such the best solution to bring along a couple of dishes that are gluten free, that way the hosts are not put out. A positive effect of this is that it can become a conversation topic, as people are likely to take an interest in why the extra food has been prepared. As such, gluten allergy sufferers can help raise awareness of the problem in their own day-to-day lives.
Additionally, gluten allergy often runs in the family so creating awareness amongst relatives becomes doubly important. It is estimated that 1 in 100 people are allergic to gluten but this figure drops to as low as one in ten for those who have a blood relative who has a gluten allergy.
A good way to introduce gluten allergy information to a family is through home testing kits. Allergy testing kits can be purchased over the counter at chemists and give accurate results in 10 minutes. This way a sufferer can confirm their own problem and discover if any relatives have a gluten allergy as well. Should the test be positive it still remains essential for the family member in question to visit a doctor soon after.
You might also like...