Get a More Healthy Lifestyle with a Gluten Intolerance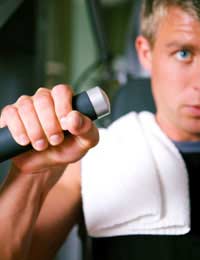 When you are diagnosed with a gluten intolerance you will unsurprisingly be upset and worried. However the allergy should not change your life too much. In fact you could use it as an opportunity to improve it! When people have a health scare or problem it often prompts then to start thinking about their health and wellbeing a lot more. This means you could start looking after yourself much more than you did before you had the diagnosis and one of the best ways to do this is to keep fit and get healthy.
Exercise
If you have a gluten allergy and consume gluten you will feel ill, sluggish, tired and bloated. You could have headaches and you may experience bowel problems. Undoubtedly then you will be in no mood to get up and do some exercises. However if you cut gluten out of your diet then you will not suffer from these symptoms and when you start to feel better you'll probably want to do more to feel even more great!
Joining a gym can be expensive. You usually have to sign up to a contract for a set amount of time, usually six months or a year. Then if you decide it was a mistake you're still contracted to pay the monthly membership fee. Money aside, gym environments can also be daunting for some people. Everyone there seems to fit in and you feel like you're the odd one out!
However who says you have to join a gym to exercise? You can exercise anywhere you like for free! A little bit of exercise not only helps you get fit and keep in shape but it can also relieve depression and make you feel a whole lot happier. When you have been diagnosed with a gluten allergy doing something to make you happier is obviously very helpful.
Get an Exercise Buddy
Working out with a friend is much more fun than doing it on your own. Why not go for long brisk walks with a friend. You can catch up on each others gossip along the way and there's nothing like a good walk to brush away the cobwebs!
There are plenty of great work out videos on the market now so it's easy to find one to suit you. The workouts are tailor made for people of varying degrees of fitness. So you can buy one made for beginners to do a nice light work out a few times a week. Get a pal over and do it together.
Don't over exert yourself and remember to only do what's within your ability. If you've not exercised for a long time start off slow and always warm up first. Exercise is a great way to beat depression and make you feel much better about yourself. With that new found confidence and bundles of energy you'll be ready to take on the allergy and anything else life throws at you! Get your training shoes on and get exercising!
You might also like...