Gluten Free Spicy Lamb Recipe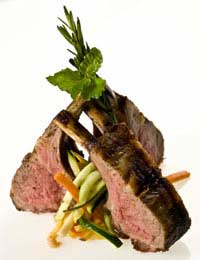 Everyone loves spicy food! There's something delicious about dishes that have a bit of a kick about them and no can accuse them of being boring! If you fancy something that will excite your taste buds and warm you up at the same time then you can't go wrong with a delicious spicy meal!
Some allergy sufferers think they're food has to be kept simple though in order to avoid experiencing the type of symptoms associated with a gluten allergy. They know if they consume gluten they will experience the unpleasant effects of the allergy. These effects can include stomach cramps, nausea, bloating, headaches and fatigue. Sufferers can also experience depression and some are more at risk to bowel cancers than non-allergy sufferers. Gluten allergy sufferers can also suffer from learning disabilities, growth and development problems and chronic bowel complaints.
Because of this many decide to keep it simple so as to avoid all risks. However there is no reason why gluten free food can't be spicy and delicious! Indeed it's simply a matter of learning to cook and having a little know how when it comes to the foods you can and can't eat.
This spicy lamb recipe is sure to become a favourite in no time at all.
Ingredients
You will need two large onions finely chopped, two teaspoons of crushed garlic, 2lb of lamb, cubed, 1lb of potatoes, sliced, 800g of tinned tomatoes, one teaspoon of group coriander, 1 teaspoon of paprika, three tablespoons of red wine vinegar, 400ml of lamb stock and a handful of spinach leaves.
Method
To begin with pre heat the over to gas mark three. Add the oil to a frying pan or wok and fry the onions and garlic until soft.
Add the cubed lamb to the pan and fry until brown. Add the coriander and paprika and fry for a further two minutes, stirring continuously.
Next add the sliced potatoes to the pan along with the red wine vinegar and lamb stock. Stir until mixed well and then boil. Once the mixture is boiling empty into an ovenproof dish, cover and cook in the oven for one hour and thirty minutes. For the last two minutes stir in the spinach leaves. Serve piping hot.
Spicy dishes make great comfort foods and really awaken the senses. There's no reason why your allergy should prevent you from experimenting and treating yourself to some spicy delights. Just make sure you check the ingredients list of any product you use to make sure it does not contain gluten and check any fresh products you are using against your list of can and can't foods. If you have not yet made one of these do your research – there are plenty of lists available on the Internet or from support groups dictating exactly which foods must be avoided and while you can have.
Don't let your allergy put you off cooking, instead let it inspire you to find new and wonderful foods and widen your cookery repertoire.
You might also like...