Gluten Free Haddock Risotto Recipe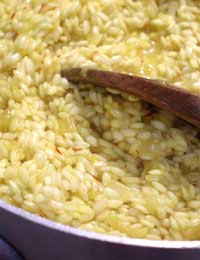 Risotto is always a firm favourite at dinner parties and also makes for a tasty, filling supper. It's really easy to make and this haddock risotto recipe is gluten free so you can eat it as much as you like.
It's also so delicious that even diners who can eat gluten will love it! serve it with lovely green vegetables and you'll also get some of your five-a-day quota too!
This risotto serves four but you can always increase the ingredients to make more. And once you've given this to your friends they're going to want more and more! Serve this with a huge green salad of spinach leaves and lettuce and it'll be a delicious, filling dinner.
Ingredients
To make this fabulous fish risotto you will need four pieces of smoked haddock. Using smoked haddock gives the dish a lovely flavour. You'll also need 500g of Arborio (risotto) rice, two teaspoons of chopped garlic, two onions chopped, two litres of vegetable stock, a handful of baby spinach leaves and a tin of sweetcorn.
Method
To begin with fry the onions on a large saucepan with a little olive oil. Add the garlic to the pan and let it cook for about ten minutes with the onion. After ten minutes the onion should be soft, if not cook for a further few minutes.
While the onion and garlic are cooking boil the vegetable stock in a separate saucepan. Once the stock is boiling and the garlic and onions are soft it's time to use the rice!
Add the rice to the onion and garlic and cook for a couple of minutes. Next add a ladle of stock to the pan. Stir continuously until the rice absorbs the stock.
You'll need to repeat this with the rest of the stock. It is important to ad it ladle at a time though and not just pouring all the stock in at once. This way the rice will absorb the stock correctly.
Stir it often to make sure the rice does not start sticking to the pan. Meanwhile you can start cooking your fish. Put the haddock into the stock.
You'll be removing the stock ladle by ladle but there will be enough in the pan to cook the fish while you do this as the fish will only need about five minutes to poach and the stock-adding process will take around twenty minutes.
When you have just a couple of ladles of stock left add the fish, sweetcorn, pak choi and remaining stock to the pan and stir gently.
Put a lid on the pan and let the risotto cook for around five minutes. This should give enough time for the rice to absorb the rest of the stock. It should be of a creamy consistency. Serve piping hot with some green vegetables and some gluten-free bread. You can buy gluten-free bread from most supermarkets but make sure you check the label so you can be 100% sure there is no gluten in the bread. As always if you are unsure ring the manufacturers whose number you will find on the packaging.
This delicious fish risotto is a tasty treat that all the family will enjoy and is so simple to make you'll soon find it becomes one of your signature dishes!
You might also like...