Gluten Free Bacon Soup Recipe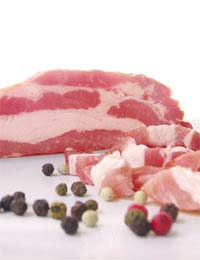 When you come home from work after a long, hard day and after just grabbing a quick sandwich for lunch you want something tasty and filling for dinner. You don't want a snack, you want some good wholesome, filling food. Of course you also need something that isn't too difficult to cook. Whipping up a full roast dinner with all the trimmings just isn't feasible when you don't get home until 7pm. The last thing you want to do is start cooking a huge meal.
Soup is a great meal to make for dinner as it's easy to make. It's more or less a case of throwing all your ingredients in a pan together and leaving it to cook while you get on with all the other things you have to do after work like the washing and the tidying and the ironing!
However, for many people, the problem with soup is it is not filling enough. When you've worked hard all day you don't want an appetiser as a main meal do you?! The thing is though there is no reason why soup has to be a light meal. You can make it as chunky and as filling as you like and with some gluten free bread soup can be a delicious, filling and hearty dinner that all the family will enjoy.
This bacon soup recipe is a tasty winter soup that is so delicious it'll soon become a family favourite. It's also completely gluten free so is perfect for allergy-sufferers and to top it off it's a doddle to make!
Ingredients
You will need 1 large onion, 2 carrots, 8 slices of bacon, 1 vegetable stock cube, 2 heaped teaspoons of chopped garlic, 1kg of butter beans, 2 litres of water, 2 sprigs of parsley, 1 teaspoon of dried sage, 1 teaspoon of grated nutmeg and salt and pepper to season.
Method
Chop the onion and carrot into small pieces and heat in a saucepan with a little oil on a medium heat. Stir occasionally and cook until the vegetables are soft. While the vegetables are cooking chop the bacon into small pieces. Once you think the vegetables are soft enough (remember they will cook in the soup too so they do not need to be too soft at this point) add the bacon to the pan. Stir to mix in with the carrots and onion then add the garlic and cook for about 5 minutes.
Add the butter beans to the pan and stir. Next add the water and stock turn up the heat to bring the liquid mixture to the boil. Add half of the parsley and the teaspoon of dried sage and stir the mixture. Lower the heat and simmer for around half an hour.
Stir in the remaining parsley and nutmeg and serve piping hot.
If you prefer a thicker soup you can blend the soup using an electric whisk to create a delicious thick soup. Season well and serve with crusty gluten free bread.
You might also like...