Gluten Free Food in Retirement Homes or Sheltered Housing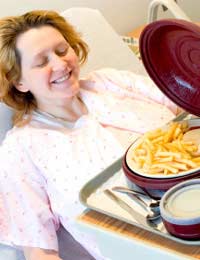 In a recent development, Coeliac UK, a national campaigning charity, has got together with other bodies to create a toolkit for NHS commissioners that lays out the business case for reviewing the supply mechanism that delivers gluten-free foods to hospital and outpatients with coeliac disease.
Their concern has been that cost savings of between 20 and 40 per cent could be achieved by streamlining the process, and as some Health Authorities have actually threatened to reduce the provision of gluten free foods on prescription, this saving could be applied to maintaining the current supply.
A further problem is that elderly people, especially those already in sheltered accommodation or residential care, may wait much longer for an accurate diagnosis of gluten intolerance. An American study, in 2009, by S Rashtak and J A Murray concluded that there was an average delay of seventeen years between symptom appearance and diagnosis! The reasons for this include the assumption amongst many elderly people, and their carers, that they are just suffering from 'old age', misdiagnosis with Irritable Bowel Syndrome is commonplace and complications of coeliac disease such as ataxia (difficulties with balance and movement) are often seen as a side effect of age, medication or stroke.
Treatment
Because the only effective treatment for coeliac disease is exclusion of gluten from the diet, getting an accurate diagnosis is just the first step. Then the individual needs to receive a balanced but gluten-free diet, and this can be complex where carers rotate regularly, or may not understand the requirement for gluten free food. While families may have become well used to buying only gluten-free foods for relatives with limited mobility, a different setting: such as sheltered housing or residential care, can lead to many more opportunities for an individual to be exposed to gluten-containing foods, and it can be difficult to explain to the individual, and those around them, that foods being generally shared amongst residents such a birthday cake or tins of sweets, cannot always be given to coeliac residents.
Moving Into Sheltered Housing Or Residential Care
It's vital for the relatives or carers of coeliac sufferers to communicate the nature of the problem and the management system required to everybody in the new location. This is important because symptoms vary and particularly where there are other conditions such as dementia or debilitating problems that require care, the identification of a symptom such as anaemia, diarrhoea and even osteoporosis may be easily made but still not be linked to the underlying condition of gluten intolerance.
Many care and residential homes have a colour coding system for meals so that dietary requirements and preferences can be met – but it can be the case that agency and temporary staff do not always get full information about dietary needs of patients. Some centres put a framed diet and allergy poster up in each resident's room, so that care staff can check each individual's needs. This works well but can still lead to problems when individuals are out of the centre, for hospital appointments, dental visits or on trips to attractions.
Regular checks with supervisory staff are a good idea, and while it may seem suspicious or intrusive to ask care givers to tell you what an elderly relative or friend has had to eat that day, many will recognise that family members cannot be in constant touch with the care plan and welcome the chance to offer reassurance about the resident and their daily routine.
Symptoms And Management
In addition, symptomatic reporting can be very unreliable in older patients who often do not think that gastric disturbance is important or may feel it is inappropriate to discuss with others – leading to an under-reporting of symptoms that can lead to gluten intolerance not being recognised. Hidden symptoms will only be spotted on regular medical check ups - anaemia found in three-quarters of elderly people with gluten intolerance and is impossible to recognise without a blood test.
When moving a relative or friend into a residential facility, check what their reporting structure is for passing dietary information on if the resident has to leave the premises temporarily, for example on a day trip, or because they need in-patient medical treatment. If you know how the system works, you can ensure that a planned relocation goes smoothly and if there is an emergency, you will at least know what to ask of the staff at the location your friend or relative has moved to, and how to rectify any problems in dietary supply.
In unfamiliar locations, it can be easy for a coeliac individual to find themselves being offered medication or snacks that contain gluten: if they are not competent to ask questions themselves, a standard system (coeliac bracelet, 'badging' on clothing and medical files and 'flashes' on records and documents) should be used by the residential home to give all those involved in patient care the necessary information.
Finally, even when a relative or friend is happily settled in residential housing that works for them, their annual check-up should measure blood antibodies to check that dietary intake is meeting an individual's needs without compromising their immune system.
You might also like...