Gluten Free Kids' Party Food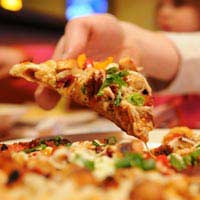 Even if your children have allergies or intolerances to food ingredients such as gluten, you can still create fun, tasty, party food for them to enjoy:{P
Gluten-free pizza
Serves twenty, ten slices per pizza
This pizza base is quite different to a yeast/gluten one. You need to take care over the cooking time to get this dough right, but when you do, it is deliciously thin and crispy.
Ingredients
450g gluten-free white bread flour
2 tablespoons white sugar
1 teaspoon coarse salt
2 level teaspoons gluten-free yeast
2 medium eggs
300ml milk (either skimmed or unsweetened soya milk)
1teaspoon white cider vinegar
4 tablespoons olive oil
Suggested Topping
You can play around with these ingredients to suit your child and his or her friends, but a fairly classic topping would be:
1 chopped onion and 1 clove of minced garlic
400 gram tin of peeled and chopped tomatoes
2 tablespoons of tomato ketchup (for younger kids) or tomato puree (for older ones)
100 grams grilled artichokes in oil or sliced gluten-free pepperoni
3 slices Parma ham
50 grams finely grated cheese
Thyme and black pepper for seasoning.
Mix the flour, sugar, salt, yeast and eggs. You can either do this in a food processor with a dough hook, or use a large bowl and a big wooden spoon.
Measure the milk into a jug and add 2 tablespoons of hot water and then beat into it the eggs, cider vinegar and oil before pouring half this mixture into the dry ingredients and mixing well. Then add the rest, stirring to create a soft and slightly wet dough.
Divide in two and instead of kneading, place around half the dough on each of two well-greased baking sheets. Using the back of a large metal spoon or palette knife (greased with olive oil) spread out each section of dough to around ten inches each in diameter and set aside in a warm area for around half an hour to rise.
While the dough rises, make the topping by frying the onion and garlic together in the olive oil and then stir in the tomatoes, ketchup and seasoning ingredients, remembering that small children may not like strong flavours. Let the topping cook gently and thicken up for around fifteen minutes.When the pizza bases have been rising for about fifteen minutes, heat the oven to 220°C or gas mark 7 and then use the same palette knife/spoon to spread the topping over the bases, until it is about half an inch from the edge.
Make an attractive pattern with the toppings of your choice and sprinkle the cheese over the top. Bake for 10 minutes near the base of the oven. Turn temperature down to 200°C or gas mark 6 to cook for another 20 minutes so that the bottom of the pizza becomes really crisp.
Maple-Chocolate-Honey Cake
200 grams butter
200 grams gluten-free dark chocolate
5 medium eggs, separated
Pinch cream of tartar
240 grams caster sugar
1 tablespoon vanilla extract
200 grams ground almonds
50 grams chickpea flour (may be called gram flour in Asian speciality shops)
75 ml maple syrup
Creamy Honey Topping
500 grams mascarpone cheese
50 grams gluten-free honeycomb, chopped
100 grams runny honey.
Method
While you preheat the oven to 180°C or gas mark 4, line a spring-form buttered cake tin with baking parchment.
Put the butter and chocolate in a heatproof bowl and melt over a saucepan of simmering water or in a microwave on low heat. Set aside.
Put egg whites and cream of tartar in a large bowl and whisk together until thick and foamy. Pour in half the sugar, whisk again until creamy. Now add the remaining sugar and whisk until soft peak stage, which is stiff, but still creamy.
Gently fold egg yolks, vanilla extract, almonds and chickpea flour into the butter/chocolate mixture and mix the resulting blend into the egg white mix, ensuring it is fully blended before adding the remainder of the egg whites and folding it into the chocolate blend. Spoon the mixture, which will seem quite wet, into the tin.
Bake for 50 minutes. When the cake is ready the top will be firm to the touch. Take out of the oven and allow it to cool slightly in the tin – don't worry if it falls a little, that's expected.
Make holes over the surface with a skewer and drizzle in the maple syrup.
Once the cake is completely cold, combine the mascarpone, honeycomb and honey in a large bowl with a wooden spoon. Don't beat these ingredients as that will make the mascarpone too runny to hold its position shape.
Turn the cooled cake out onto a large plate – it will be quite soft in texture, so work carefully. Spread the honey mixture over the top and chill immediately until half an hour before serving.
You might also like...