Gluten Free Sweetcorn Soup Recipe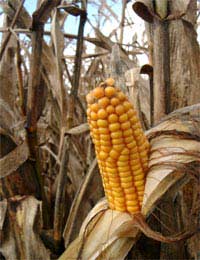 Just because you're suffering from a gluten allergy it doesn't mean you can't cook delicious meals. You can even throw fabulous dinner parties for your friends and serve great dishes that everyone will enjoy. You don't even have to cook separate meals for gluten allergy sufferers and those without an allergy because gluten free dishes can be so delicious everyone will enjoy them.
What better way to start a dinner party than with a delicious soup? You may think your choice of dishes will be severely restricted because of your gluten intolerance but there are actually loads of choices out there and all it takes is a bit of research and a bit of creativity.
Sweetcorn is a delicious vegetable with a distinct and intense flavour. If you want to serve a vegetable based soup for your starter then why not opt for this delicious sweet corn type.
Ingredients
You will need:
30g of flour (gluten and wheat free)
30g of butter
350mls of cold water
1 vegetable stock cube
650 mls of milk
a large tin (around 300g) or sweetcorn
You'll also need some salt and pepper for seasoning. If possible go for the no added salt variety of sweetcorn as it is much healthier.
Method
To begin melt the butter in a pan - cook on a low heat so it melts slowly and doesn't sizzle. Once the butter has melted add the flour to the pan and cook the mixture on a low heat for a couple of minutes stirring continuously.
Once the flower and butter have combined add the water to the pan and continue stirring. Next add the milk and the stock cube. Stir the mixture and cook on a medium heat until it begins to thicken. Continue cooking until it is of a nice thick consistency.
While the mixture is thickening warm the sweetcorn in a saucepan. This will soften it up before you add it to the soup. Warm it for one or two minutes then add it to the soup mixture. Heat the mixture for a further five minutes and season well.
Once the soup is ready serve piping hot. You could also serve it with some gluten free bread. Which is available at most specialist food stores and tastes just as delicious as bread that contains gluten.
Having a gluten allergy will mean making some changes to your diet but it will not mean you can't have some delicious foods and treat yourself too. Dinner parties are great fun and just because you're eating a gluten free diet it doesn't mean you can't throw a fantastic dinner party for your friends. There's no reason why they can't enjoy a gluten free meal so you don't even have to cook something separate for yourself.
So get in the kitchen brush up on your cooking skills and show you're friends just how delicious a gluten free diet can be with a little creative know-how and a few great gluten free recipes.
You might also like...