Gluten Intolerance and Pregnancy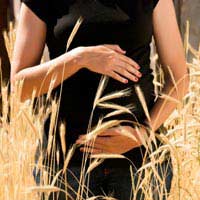 In the United Kingdom, around 1 in 300 people are reckoned to have coeliac disease, either diagnosed or undiagnosed, but the rate is as high as 1 in 100 people in Ireland. This means that a large proportion of the gluten allergica population may be women of child-bearing age, and coeliac disease and gluten intolerance have quite serious implications for pregnancy.
Fertility, Pregnancy And Gluten Intolerance
First, the malabsorption of the bowel may leave pregnant women with gluten intolerance severely anaemic. This is because their body absorb sufficient iron and vitamins to meet the demands of pregnancy. As a consequence of this, babies born to undiagnosed coeliac disease sufferers are more likely to suffer intrauterine growth retardation, which means they are smaller than their age in the womb suggests they should be.
There are further reasons that gluten intolerance might have effects on a woman's ability to get pregnant – a study has found that the age of menstruation can be significantly delayed in young women who have untreated coeliac disease and that a substantially earlier age of menopause may shorten female fertility at the other end of the scale too, giving the gluten intolerant woman a narrower window in which to conceive successfully.
Coeliac Disease And Babies
Perhaps one of the most disturbing aspects of undiagnosed coeliac conditions is that they can mean that newborns have a much poorer start in life – when a mother has undiagnosed coeliac disease her baby will tend to have a significantly lower birth weight than a baby born to a mother without coeliac disease or one whose coeliac condition has been managed medically during her pregnancy. In addition, there is a slightly increased rate of miscarriage in women who have untreated coeliac disease.
Diets For Pregnant Women With Coeliac Disease
The most important consideration for any woman who has coeliac disease and wants to get pregnant is to ensure her diet supports her desire. While there are no standard clinical guidelines on diet for pregnant women with coeliac disease, they may need more tailored nutritional programmes. Because coeliac disease rules out any wheat based foods, gluten intolerant pregnant women often have to make extra efforts to get enough roughage into their diets. Fibre-rich gluten-free foods that can provide this roughage are: wholegrain rice, buckwheat and potatoes eaten with their skins on. Other good sources of roughage are legumes, pulses and seeds: corn, millet, lentils and linseed are excellent roughage providers and eating vegetables and fruit with the skin on can increase fibre intake.
Supplements And Coeliac Disease
Every woman is now advised to take a folic acid supplement from the day of deciding to get pregnant through to the end of the first trimester of pregnancy – all standard folic acid formulations are now gluten free. Because calcium is vital to a healthy pregnancy, a gluten-intolerant mum-to-be should seek out gluten free flours and packaged foods such as sauces and cereals that have enriched or enhanced calcium. Some women may also be advised to take iron supplements, while others will be told to eat a diet rich in iron, this can be found in: lean red meat, oily fish such as sardines, salmon and mackerel, and eggs. For vegetarians, good iron sources are soya beans or tofu, leafy green vegetables and all beans.
Managing Pregnancy
Women with coeliac disease should have regular check ups during pregnancy to ensure that their condition is not putting extra stress on the developing child – this allows the GP to tailor diet and supplements to the needs of both mother and child.
You might also like...