How to Enjoy Gluten Free Cooking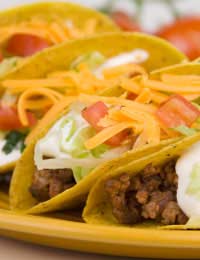 At first, eating a gluten-free diet can seem like nothing but rejection and restriction – rejection of all the foods that the gluten-intolerant individual has loved in the past and restriction to a tiny range of unattractive foodstuffs, but it really doesn't have to be that way. To start with, there's a vast range of tasty ingredients available to cook with.
Naturally gluten free foods
Meat and dairy – the gluten intolerant individual can eat: unprocessed meat, fish and poultry (but take care with basted chickens and poultry in sauces) bacon and ham off the bone (not processed), whole eggs (not egg powder),milk – including evaporated and condensed milk (but read the labels of flavoured milks which can contain gluten), fresh cream, almost all cheeses
Fruits and vegetables: just about every fresh, frozen or tinned vegetable and fruit in water or oil, but not in a sauce is available to the gluten intolerant diet, as well as pure fruit juices (check the labels of 'juice drinks' which can contain stabilisers using wheat or other gluten products) roasted (but not dry roasted) nuts and nut butters. Dried fruits are a good fibre addition to the gluten intolerant diet.
Cereal based products – although wheat is out, gluten intolerant people can still eat: corn-flour and corn-meal, gram flour, soya flour, every kind of rice and rice flour, buckwheat flour which produces superb pancakes and polenta along with rice crackers, corn tortillas and tacos, gluten-free pasta and noodles made from rice
Most condiments including: tomato puree and paste, jams, marmalade, honey, cocoa (but not drinking chocolate which can contain wheat by-products), many mustards and oriental sauces, as long as you read the labels carefully.
All oils are usually gluten free, as are seeds like pumpkin and sunflower, poppy and all forms of nut.
Cooking the gluten-intolerant way
Once you've restocked your kitchen with the right foods, aim to cook very much as you did before you got your diagnosis, but add to your cooking adventure at least one meal a week from a specialist coeliac or gluten-free cookbook to extend your range. Often you'll find new recipes that really make your tastebuds happy and meet all your dietary needs.
Specialist tips for gluten-intolerant cuisine
When making bread, use xanthan gum – a specialist product found in health food shops or purchasable online – to add elasticity to gluten free flours. It's gluten that makes bread dough springy and elastic so without it, gluten free bread tends to be dense and crumbly – xanthan gum can help correct this. You can also use it to help make pastry from gluten free flours that can easily be rolled out.
Moist and rich cakes can be made very easily using ground almonds or a blend of rice flour and ground almonds in place of wheat flour.
Gluten-free grains like quinoa and polenta offer a wider range of food choices to the gluten intolerant gourmet. You can use quinoa to make a dish like a nutty, moist pilaff and it's also very good cold in a salad. Polenta is great if you make it up as per the packet, pour it into a greased shallow tin and leave to set – then slice it and grill it – you can then top it with roasted peppers, fish, sundried tomatoes and cheese etc to make a tasty bruschetta.
You might also like...
I was recently asked to provide a gluten-free lunch at short notice I didn't think this would be much of a problem and just went to the local supermarket to buy some gluten-free bread etc. I have to say I wasn't very impressed the choice was very limited and the loaf I bought seemed like rock to me (I am not gluten intolerant).Thanks for some great tips on your website, next time I have guests who require a gluten-free snack I am definitely going to try the grilled polenta topped with cheese.
Laura
- 18-Jun-12 @ 12:05 PM