Can I Have a Normal Day to Day Life with a Gluten Allergy?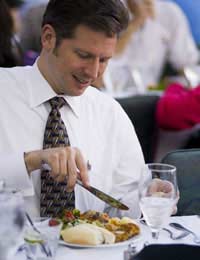 When you are diagnosed with a gluten allergy you may find it difficult to come to terms with this. It is a serious condition and you will rightly be confused and concerned about what comes next. However it is by no means impossible to continue with your life and carry on almost as normal by just making the correct adjustments to your diet.
Getting diagnosed with a gluten allergy is a big shock. You will no doubt see it as a life-changing moment and in many ways it is. From that moment onwards you have to make some big changes to your diet and therefore to many aspects of your social life.
Eating Out
One major change will involve eating at restaurants. You will have to be much more careful when eating out because you have to make sure there is no gluten in the meals you order. Whereas menus often inform diners whether or not there are nut products in dishes they rarely say whether or not there is gluten in them.
When dining out it is important to ask the waiter whether or not there is gluten in the meal you are about to order. He or she may have to check with the chef to find this out. Never feel like you are being a nuisance. It is vital that you find out before you consume the foods.
The same goes for dining at friends houses. You may feel rude to ask if the meal is already served – and ever ruder to have to decline the meal if it does contain gluten – but it is more important that you protect yourself and say no to the food than protecting your hosts feelings and eating it anyway.
Making It Known
To avoid these situations and to get the support you will need to get through the first few months of dealing with the illness let your friends and family know about your condition. This way they will know not to serve you gluten products. They will also understand what you are going through and be able to offer you any help you might need.
Day-to-day Life
Despite the changes to your diet with the right knowledge and with a little practise you should be able to carry on with a normal life. You should be able to enjoy the activities you did before and, as long as you avoid gluten products, you will not experience the symptoms of the allergy. Gluten free cooking will soon become natural to you and you will soon settle in to gluten free living.
Education is key to living a normal life with a gluten intolerance. Once diagnosed read as much as possible about the illness. Work out a gluten free food list and adhere to it. A little research will help you to form a gluten free food list to stick to. Join support groups for added information and support and try not to let it get you down too much. You are in control and you can keep the symptoms at bay and enjoy a great life with just a little practise.
You might also like...