Can Gluten Allergies be Treated with Medication?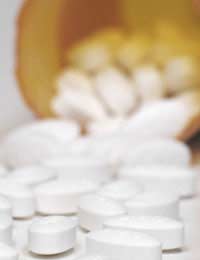 Most illnesses can be treated in some way or other with medication. The medication may not cure the illness completely but it will ease the symptoms and help you to feel better. Even the common cold can be helped with painkillers, lemon and honey drinks and throat sprays. However, unfortunately for gluten allergy sufferers this is not the case with gluten allergies.
Gluten allergies can not be treated or cured with medication. Any medication will be useless and will do little to help. Gluten treatments are not available and gluten medication does not exist.
Medication To Ease Symptoms
That is not to say however that medication does not exist you help ease the symptoms of gluten allergies but it is important to be aware this is not the same as taking medication to ease the symptoms of a cold. If you have a cold you may take some paracetamol for your temperature and headache and some medicated hot drinks to clear your sinuses etc.
Gluten allergies can leave sufferers feeling weak, achy and experiencing headaches. Painkillers could help with this. Sufferers may also experience bowel discomfort with diarrhoea or constipation. Again there are products available to ease this. But there is a big difference between taking medication to ease the symptoms of a cold and taking medication to ease the symptoms of gluten allergies.
With gluten allergies you can take medication to ease your discomfort but they are by no means solving the problem. Colds pass on their own. They come from just daily life – you get run down and pick up the bug or you interact with someone who already has a cold. They go in their own time. Gluten allergies occur because the body is in intolerant to the gluten product. Each time you consume that product the allergy will flare. In other words you are causing the symptoms by continuing to eat gluten products. Taking medication to ease the symptoms is pointless if you are just causing them to return with your diet.
One way to look at it is to think of it as alcoholism. An alcoholic could have many health problems due to his or her excessive drinking. Problems like liver trouble can be treated with medication and hospital treatment. But as long as the person continues to drink the medication and treatment is pointless.
The easiest (and only real) way to treat gluten allergies is to cut gluten out of the diet all together. In some cases sufferers may feel ok consuming just a little gluten but in most cases the best thing to do is stop having any products that contain gluten. With so many gluten-free products on the market this should mean you do not have to change your diet or lifestyle too much.
Gluten-free products are becoming more and more common as gluten allergies become more well-known. Since the disease is by no means rare it is no surprise supermarkets are now stocking more products than ever before. Always check the label of the products you buy to make sure they have no gluten traces in.
You might also like...