Should I Avoid Alcohol with a Gluten Allergy?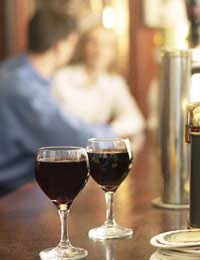 When you are diagnosed with a gluten allergy you will have to make some changes to your diet. This will include cutting down on or stopping eating altogether products that contain gluten. This include many grains, namely wheat and rye. However while you're busy giving up the bread and cereals you may not think about the gluten that is found in alcohol.
If you ever go out and find yourself feeling more than just groggy after having a drink it may be that you have a gluten intolerance. Gluten is found is most beers and so while you may not realise it you are consuming gluten just by having a couple of pints.
More Than A Hangover
When you wake up after a night out you may, like most people, feel pretty rough. You may have a headache and an upset stomach. You may also feel dizzy and achy. However, don't start jumping to conclusions. It is more than likely you have a hangover! Horrible though they are, they are not related to gluten allergies, more so they are down to the fact you have consumed a few too many beverages. A lot of sleep, a lot of fluids and a couple of painkillers and you'll be right as rain. With gluten allergies the reaction and affects are different.
The effects of gluten allergies, in relation to alcohol, occur just after you've had a drink, not the morning after. The sufferer will start to feel ill after having just one or two drinks. They may feel nauseous and faint and they may be suffering from stomach cramps.
Abdominal discomfort after consuming just a couple of drinks is also very common with gluten allergies. The sufferer could experience acidic feelings and painful pangs. If you experience this, it is likely you have a gluten allergy.
Do I Have to Avoid All Alcohol?
If you have a gluten allergy then it is wise to avoid all alcohol that contains gluten.
Most big supermarkets now stock gluten free wine and beers that are low in gluten. If you like a glass of wine then you should always look for the gluten free variety. Gluten free alcohol is becoming more and more popular as more people learn about the disease. Low in gluten beer and gluten free whiskeys are widely available. Gluten free alcohol will not necessarily be available in smaller shops though so it is best to look in the larger stores.
If you are not sure about whether or not there is gluten in the alcohol then you should invest in a gluten testing kit. These kits enable sufferers to determine whether or not there is gluten in their drinks and thus they will know whether or not it is wise to drink them.
Remember to always drink sensibly though, don't over indulge.
You might also like...
hi , is cider ok to drink, if I have gluten intolerance allergy.
dot
- 16-Nov-11 @ 11:57 AM