Should I See my Doctor if I Suspect I Have a Gluten Allergy?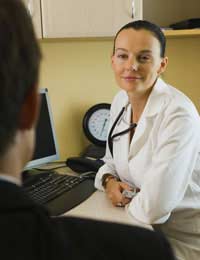 Many people suffer from gluten allergies for a long time without even realising it. This is because not only are some allergies quite mild (so the sufferer may not even be aware that he or she is suffering!) but many of the symptoms are more familiarly associated with other illnesses and common ailments. It is because of this that many people do not seek advice from a doctor when they are experiencing these symptoms but it is crucial that you do. Leaving the allergy undetected could cause you more serious problems in the long run.
Similar Symptoms
The symptoms of a gluten allergy are not unique to it. Indeed many of them you may not even class as 'symptoms' at all. For example, one of the main effects of a gluten intolerance is fatigue. This is common in most cases and is something you should see your doctor about if you are experiencing it unexplainably. However many people will not do so. Many sufferers may think they are tired because they have been working quite hard or because 'everyone gets tired from time to time'.
Similarly weight loss is a common effect of gluten intolerance. But few people would think of gluten allergies when they experience weight loss. Some may think 'oh I've had a cold recently and didn't really enjoy my food so maybe it's that'. Some may just put it down to stress and carry on as normal.
One of the major symptoms of gluten intolerance that is hardly ever heard associated with it is depression. Sufferers could feel very depressed as a result of their allergy but since they do not realise the two are associated with each other, they may not think to see their doctor for a gluten allergy test. It is a sad fact indeed that many people in the UK with depression suffer in silence because of the supposed 'stigma' they think is attached to it.
If you are experiencing any or all of the symptoms of a gluten allergy it is vital you see your doctor and ask for a test. If your gluten allergy is left undetected it could lead to serious long-term problems. Some gluten allergy sufferers are more at risk to bowel cancer than non-allergy sufferers. Some women are at risk of miscarriage and some sufferers may become infertile. While these are extremely severe side effects they do occur and therefore it is imperative that you seek help from your doctor.
In any case even if a gluten allergy test is the last thing on your mind – indeed, even if you have not got a gluten allergy – whenever you feel very ill or uncomfortable for a prolonged period you should seek advice from your doctor. If he or she is a good GP they will know what your symptoms could be linked to and should organise the necessary test. Do not suffer in silence. With most illnesses and allergies, the sooner they are detected and treated the better.
You might also like...