Gluten Free Cupcakes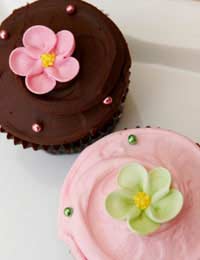 When you're laying on a party spread – especially for a children's party – there is one staple addition to the table that you can never go wrong with and that is the good old fashioned cupcake. We all remember having them as children. Every party you went to the first thing you'd notice was the mound of beautiful, delicious-looking cupcakes, each with a colourful icing that would make your mouth start to water.
Even as adults those cute little cupcakes are hard to resist. Fancy desserts may be nice on occasions but a tasty little sponge cake with a deliciously sweet icing has long been thought of as the perfect accompaniment to a cup of day and a girlie chat.
If you have a gluten allergy you may get tired of having to cross things off the list of food you are allowed to have. If you have not long been diagnosed with a gluten allergy especially it can be hard having to refrain from sampling some of the things you loved so much before.
The great thing about these cupcakes is that just by substituting ordinary self-raising flour for gluten free self-raising flour and adhering to the recipe you can enjoy them just the same as everyone else. Gluten free flour is available in most large supermarkets. Just make sure you check the label to ensure there is definitely no gluten in the product and if you are still not convinced call the manufacturer of the product.
Ingredients
To make these delicious little treats you will need:
225g of unsalted butter
225g of gluten-free self-raising flour
225g of caster sugar
4 large eggs
one teaspoon of vanilla flavouring
one teaspoon of baking powder.
Method
Before you start turn your oven on to about 180 degrees C, gas mark 4 to allow it time to heat up. Many people ignore this part of recipes as they fail to see the important of preheating the oven before cooking but this could be the difference between perfectly raised cupcakes and soggy messes!
Next take a large bowl and add to it the flour, butter, sugar, eggs, vanilla flavouring and baking powder. Using a whisk mix the ingredients until the mixture become smooth with no lumps in it. This is also a crucial part of the recipe. Cutting corners won't produce the perfect cupcakes we want.
The mixture you have will make around 16 cupcakes.
Take 16 cupcake cases and place them on a baking tray. Spoon the mixture into each cases, making sure you distribute it evenly. Place the tray in the oven and cook for about twenty minutes.
Once the cooking time is up remove the tray from the oven and allow the cakes to stand for five minutes. Then take the cakes off the tray and leave until they have cooled almost completely. For the perfect finishing touch use a gluten free icing available in most supermarkets.
Whether for a children's party, afternoon tea or even just a little treat for yourself after a long day, cupcakes are perfect. With this simple, gluten free recipe you can whip them up in no time!
You might also like...
I used brown rice flour, and added bicarbonate of soda as a raising agent. The texture was lovely, but there was a foul aftertaste! Even after icing them they weren't really edible. So I gave up the ghost and mashed them with ice cream, which did the trick! Shame, better luck next time!
Hi, what type of gluten-free self-raising flour can be used? Can rice flour be made into this? Thanks, Ciara
Ciara
- 15-Jun-12 @ 9:20 PM
I find these delicous. I love making them,its always something to do. Thanks for a brilliant recipe with lots of others too!
whatmorecouldgowrong
- 15-Feb-12 @ 10:13 AM
im cooking them in school tomorrow hopefully they will get me a high grade, i have finally found a website with lots of gluten free recipes !!(:
blondeceliac19
- 4-May-11 @ 5:01 PM