Gluten Free Muffins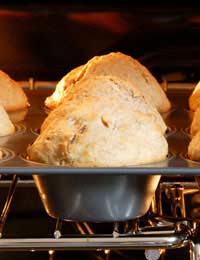 You know how it is. You get to work, the morning is spent going through emails and catching up on the days workload and before you know it it's lunchtime. You have your hours break and come back feeling refreshed, satisfied and ready for the afternoon and it's all going well until about 3 o'clock when time seems to stand still. You start to feel tired and sluggish and you need a pick me up. That's why your afternoon break is so enjoyable. Just a quick time out to have a coffee and a much needed treat and you're back on your feet again.
A coffee and a delicious chocolate muffin is just what the doctor ordered when it comes to the afternoon sluggish period. But if you have a food allergy it may not be a simple as that. You may find yourself struggling to find something you can eat without suffering a reaction. The perfect solution? Make your own treat and bring it into work with you! Make a batch and offer them around the office – unless you find them so delicious you want to keep them all to yourself that is!
Gluten Free Muffins
To make these muffins you will need:
125g of gram flour – this is a flour made from chick peas and is available at most large supermarkets
125g of gluten free plain white flour
One teaspoon of bicarbonate of soda
Enough vegan egg replacement for two eggs (this can be bought at most large supermarkets too and is used in dairy and wheat-free baking)
150g of caster sugar
40g of cocoa powder
170ml of sunflower oil
150ml of milk
Two heaped tablespoons of treacle
75g of gluten-free chocolate chips
Method
To begin preheat the oven to 180 degrees C, gas mark 4. The oven will have time to heat now while you prepare the muffins for baking. Take a large bowl and add to it the gram flour, gluten free white flour, chocolate chips, bicarbonate of soda, caster sugar, vegan egg replacement and cocoa power. Mix well to combine all the ingredients.
Once the ingredients are combined make a hollow in the centre of the mixture and add the sunflower oil, treacle and milk. Using a whisk beat the mixture until it takes on a thick consistency. Make sure there are as few lumps in the mixture as possible.
Once the mixture is smooth, spoon it into muffin cases on a baking tray. Fill each case about a two third of the way up. When all the mixture has been used place the tray into the over and bake for half an hour.
Once cooking time is up remove the tray from the oven and press the muffins lightly. If they feel quite firm they are ready. If not allow them to cook for a further ten minutes. Once cooked allow the muffins to cool before eating.
You might also like...