How Should I Prepare for a Gluten Test?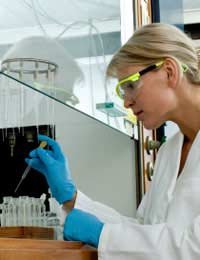 To find out if you have a gluten allergy, you will have to have allergy testing. You can get this done by visiting your doctor, who will conduct a few tests. They will test for whether your body produces autoantibodies. This is because the if you have a gluten allergy, the body does not produce a digestive enzyme called intestinal glutaminase that is essential for digesting gluten products.
Bowels can become flattened and this will mean getting rid of waste products is not as easy as it should be. The sufferer could experience bowel discomfort as a result of this. They may suffer from bloating, pain and difficulty going to the toilet.
These are not the only symptoms that affect gluten allergy sufferers. The sufferer could also experience headaches, depression, weight loss and nausea. The severity of these symptoms differs from patient to patient.
Diagnosis
It is often difficult for doctor's to diagnose gluten intolerance and so if you believe you may have a gluten intolerance, it is important to be aware of your symptoms and consult your doctor before gluten testing takes place.
If you plan on having gluten testing carried out, it's important that you prepare for a gluten test in the correct way. You must continue to eat foods containing gluten before the allergy testing, so that the results will be accurate.
Home Allergy Tests
Home allergy test kits are another way of allergy testing and they are now more advanced but you should still always consult a doctor. If you are carrying out gluten testing at home, it is still important to eat a normal diet that includes foods containing gluten. Home gluten testing kits can be found at chemists and through the internet but remember to speak to your doctor before you take the test at home.
If the results of the test indicate a gluten allergy, a biopsy of the intestine will be carried out to see what damage has been caused to the intestines and bowel.
The only way to avoid an allergy is to follow a gluten-free diet. This can be very demanding and limiting, since so many foods contain wheat or wheat by-products. However, there are a number of health food stores and specialty food markets that sell gluten-free products. Fruit, vegetables, and most dairy products are completely safe for celiac's, although some individuals are lactose intolerant in addition to celiac disease. In this case, soy-based milk, yogurt, and cheeses can be used for snacks and recipes.
Taking food enzymes is also a good way to reduce the symptoms of celiac disease and restore the body's natural balance. Enzymes will help to absorb the nutrients in food, and the intestines can recover after following a gluten-free diet for anywhere from a few months to a couple of years depending on the damage sustained. However it is important to keep away from gluten products. Even if the damage repairs itself the allergy remains and if you go on to eat more gluten products then the intestines will become damaged again and the symptoms will return.
You might also like...