Gluten and Gliadin: How the Allergies Differ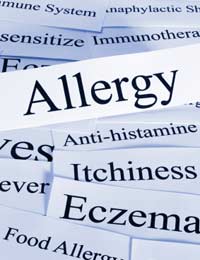 For most people, there is no necessity to distinguish between gluten and gliadin because all that is necessary is to avoid eating foods that contain one or the other. However, for people with multiple allergies, or for those who are managing a variety of conditions, it can be important to understand the two proteins that contribute to gluten-intolerance and coeliac disease. Working with the proteins separately in trials and studies is also a vital part of the research into what causes, and may eventually cure, this dietary intolerance.
What Is Gluten?
The dictionary says that gluten is a cohesive, elastic protein left behind after starch is washed away from wheat flour. This shows that only wheat is considered to have true gluten, although many people have intolerances to other grain proteins, particularly rye and barley and to another food (which is actually a fruit) called buckwheat. Gluten is useful because it 'glues' itself together and glues other proteins to itself, for this reason it is used in many different foods to make the food 'stick' rather than fall apart.
Wheat gluten is made up of many different proteins which fall into two main groups: the gliadins and the glutenins which in turn break down into even smaller units, called polypeptides. One specific polypeptide is known to be particularly harmful to the gut function of people with coeliac disease. This polypeptide contains a set of amino acid sequences which are known by the name gliadin. This is important because the sequence of amino acids is very similar to patterns of amino acid found in rye and barley. The polypeptide chain that is like gliadin but found in rye is called secalin, and the one found in barley is called hordein but in practice they are all lumped together under the shorthand of gliadin.
What Gliadin Does
Gliadin is also a molecule that sits on the surface of adenoviruses. These are the viruses that cause many lung infections and illnesses and they are very common. Gliadin's role is to help the virus stick to and get in between, the walls of cells in the human body. The gliadin in wheat gluten does a similar thing – it becomes soluble in water, and then binds itself to cells, if the human who has eaten the gluten then makes antibodies to gliadin, as they would to any adenovirus, the body treats the gliadin cells as a viral infection. When gliadin in gluten becomes water soluble, it is free to bind to cells. If the victim can make antibodies to gliadin, the body then treats those cells as a virus infection and in people for whom this immune response is extreme, the tissues surrounding the gliadin-bonded cells can be damaged, causing a further immune response, which triggers health problems throughout the body.
Why Gliadin Matters
While gliadin is water soluble, it requires processing to become so and our ancestors may not have been as gluten-intolerant as we are just because they used wheat differently in their diets. Our modern human habits of grinding flour finely, fermenting it with yeast, baking it and adding chemicals to make it smoother and easier to chew all tend to process the gliadin more totally, so that it dissolves more in water and thus becomes fully activated in the gut of a person who has gluten intolerance.
You might also like...